In traffic engineering, highway guardrail is aimed at preventing errant vehicles from hitting roadside obstacles which may be either man-made (sign structures, culvert inlets, utility poles) or natural (trees, rocks), running off the road and going down a steep embankment, or veering off the roadway into oncoming traffic (commonly referred to as a median barrier). For the time being, W-beam guardrail is the most popular choice for making crash barrier systems. W-beam guardrails are cost-effective to prevent vehicular impact with roadside objects, and lessen the likelihood of vehicle overturning and casualties.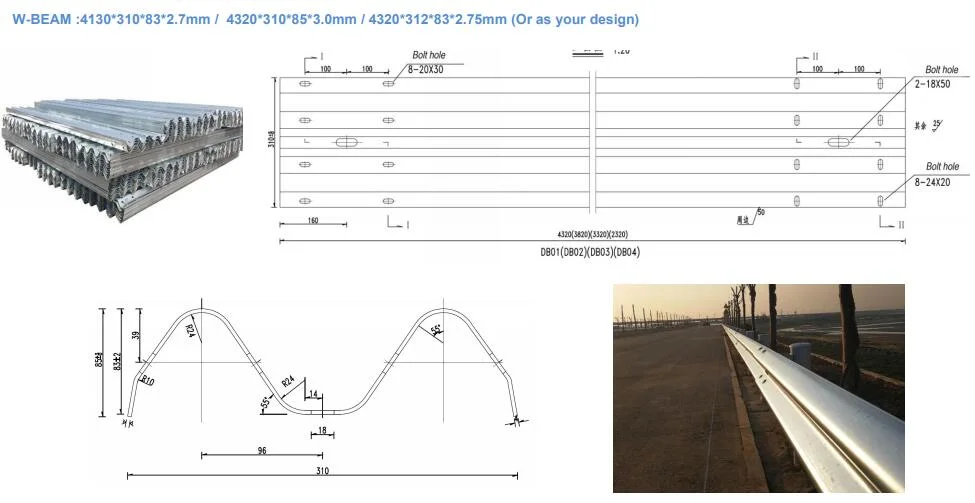 The
thrie beam highway guardrail
(also named as tri-beam crash barrier or tri-wave guardrail etc.) is a type of guardrail that is mainly installed along the highways around the world.
Wuhan Dachu Thrie Beam Highway Guardrail crash barrier
is formed in accordance with the latest highway safety barrier technology to make sure its high durability and maximum strength. Dachu road guardrail components are made of high quality steel (Q235, Q345, A36 etc.), which can effectively reduce the impact force caused by vehicles to the maximum extent. Dachu Thrie Beam crash barrier is a perfect combination of high quality material (Q235B, Q345B, etc.) and excellent anti-rust zinc or powder coating.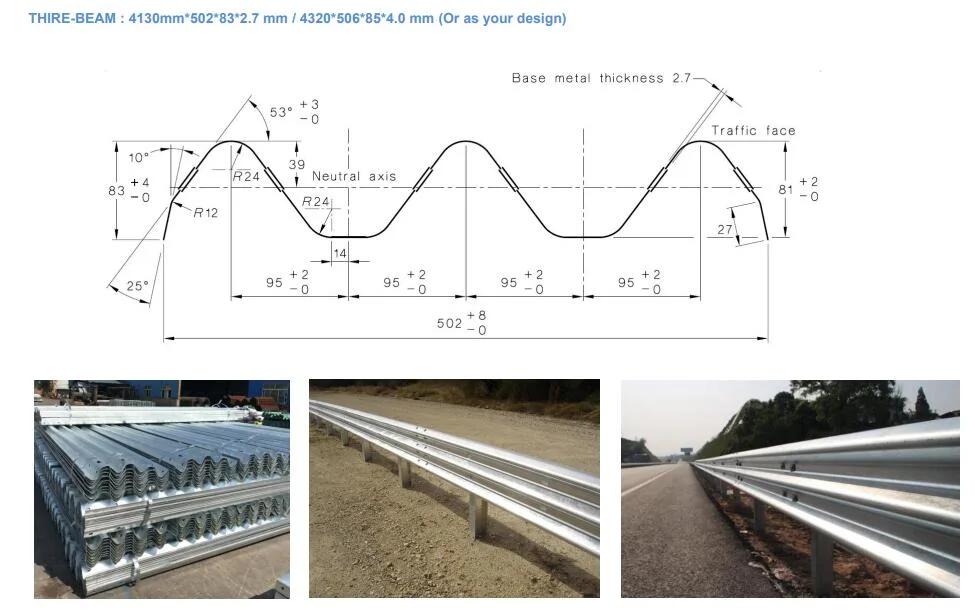 Popular accessories Wuhan Dachu produce and exports:
| | |
| --- | --- |
| Base Material | A572/Q345B/HA350/Q235B/A36/S355JR/S275JR |
| W-Beam | 2320/3320/4128/4130/4318/4320/7938*308/310/311/312/315*2.5/2.6/2.67/2.7/2.75/2.76*2.8/3/4/5/10 |
| Thrie-Beam | 2320/3320/4128/4218/4318/4320*506/508/510*2.76/2.8/3/4/4.5/5/10 |
| Surface Treatment | Hot Dip Galvanized or Powder Coated |
| Galvanizing Thickness | 300g/m2 (40µ), 550g/m2 (80µ) or 610g/m2 (85µ) or 1100 g/m2 (160µ) or 1220 g/m2 (170µ) or customized |
| Certificate | AASHTO, AS/NZS, EN, ISO9001, ISO14000, SGS, CE, BV |
| Feature | Great corrosion resistant, high intensity, long and durable, low cost, higher security, environmental protection, etc. |
| Other | Other special specification as per client's requirement or drawings. |
Applied Standards for Manufacture and Quality Control:

Pupular Appications of Corrugated Guardrails
1. Car parking lot guardrail;
2. Industrial barriers;
3. Roadway guard crash barriers;
4. Median highway crash barrier;
5. Loading bays;
6. Warehouses;
7. Distribution depots;
8. Service roads;
9. Pedestrian areas;
10. Bridge guardrail.

INSTALLATION CRITERIA FOR BARRIER
Please observe the following guidelines to install barrier. Our company will send the techincians and reprentative for our product guardrails instllation for all the Techincal Support and Guiance.

Preliminary operations
Where installation is to be carried out in traffic, all necessary road signs must be set up in order to direct traffic and protect workers from vehicles, in accordance with safety regulations. The parts making up the road barrier can be unloaded from the transport vehicles by means of a crane fitted to the vehicle, or forklift truck, in accordance with current safety regulations. Workers must be supplied with all required equipment, including safety shoes, gloves and goggles and -where necessary - helmets, safety harnesses and all else specifically needed for the site and required by current safety regulations.

Installation sequence
The assembly diagram provides instructions for correct barrier installation. Fully and completely follow these instructions.
Main steps:
1. Trace out a full line of reference on the ground, which will serve to align poles and beams.
2. Place the beams along the traced line taking into account the direction of traffic.
3. Posts (designated posts according to the drawings) are to be lifted vertically and planted in the
4. ground1,080 mm (or designated) deep the holes in the top and spaced 2,000mm or 4,000mm apart. A pile-driver is generally used. During this phase, please check: alignment and level of posts, distance between posts, that they are vertical, and distance from the embankment, all in accordance with the measurements and tolerances specified in the applicable drawing of reference.
5. Assemble the spacers to the uprights using the M16x50 mm bolts;
6. Assemble the beams that have been laid on the ground, attaching them to the spacers with M16x45 bolts and the beam themselves by means of bolts M16x35 supplied.
7. Use the calibrated pneumatic screwdrivers to fasten all nuts and bolts into place, checking levels and alignments.
8. Installation must always take place under the surveillance of a specialist technician, and in full compliance with the final drawing and current safety regulations.

Inspection of installation conformity
The technician responsible for the installation shall, at the very least, control conformity of the following, prior to beginning assembly, during work and upon conclusion, by using all measurement instruments necessary and in his possession:
1. Full compliance of the installation with the final drawings of reference.
2. Pole spacing and height of upper beam and current edge in accordance with that specified on the final drawings of the barrier, dilation joints and ends.
3. Length and alignment of the installation on the basis of the final drawings and the road layout and altimetry.
4. Final coupling bolt torque according to that set in the assembly diagram.
5. Compliance with all applicable safety regulations.

About Wuhan Dachu
Wuhan Dachu Traffic Facilities Co.,Ltd. is a professional manufacturing enterprise in traffic safety facilities products, officially registered in the year of 2014 at Zhangwan Industrial Park, Zhangwan Street, Caidian District, Wuhan City, Hubei Province, China. Products our company manufactures and sells include: W-beam guardrail set (galvanized and powder coated), Thrie beam guardrail set(galvanized and powder coated), and guardrail posts, spacers, backup plates, bolts & nuts, washers, terminal ends and other accessories in different specification and material.

The company has developed itself from previously a mere guardrail factory into currently four factories, occupying an area of 20,000 square meters. We have independently launched several new-type hot dip galvanizing production line, environment-friendly electrostatic spray production line, Scientific and technological hot dip coating production line as well as the most advanced systematic production line of pressing, punching, forming, cutting. The average annual output can reach as high as 600,000 tons.

Wuhan Dachu is a certified manufacturing company and qualified exporter. Wuhan Dachu guardrails conform to various standards like JT/T 281-2007(Chinese Standard), AASHTO-M180(American Standard), AS/NZS 3845:1999(Australian and New Zealand Standard), BS EN-1317(European Standard), etc. What's more, we can customize the product according to customers' need. We have exported our guardrails to many different countries and regions, such as America, Spain, Italy, Australia, New Guinea, Malaysia, Bolivia, Mauritius, Sri Lanka etc.

Company Certificates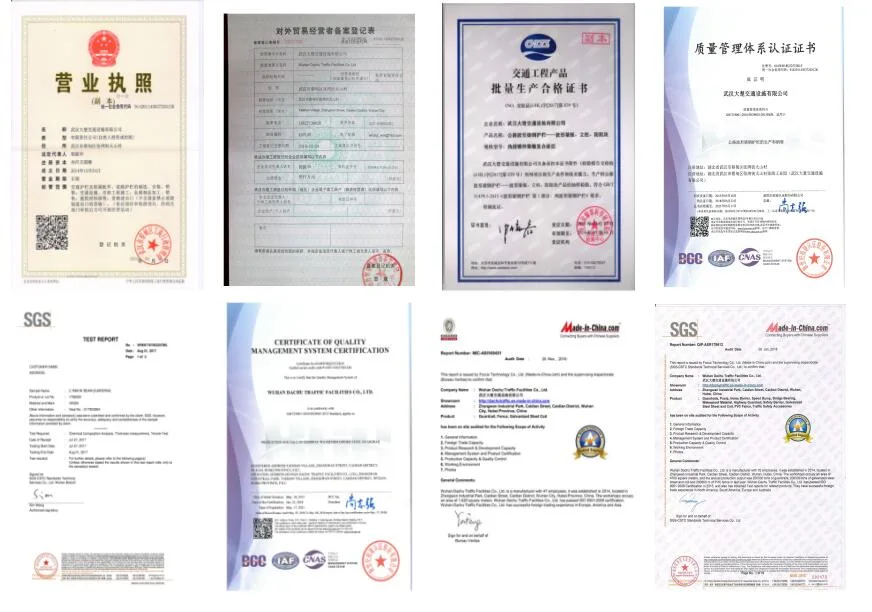 Our Production Base: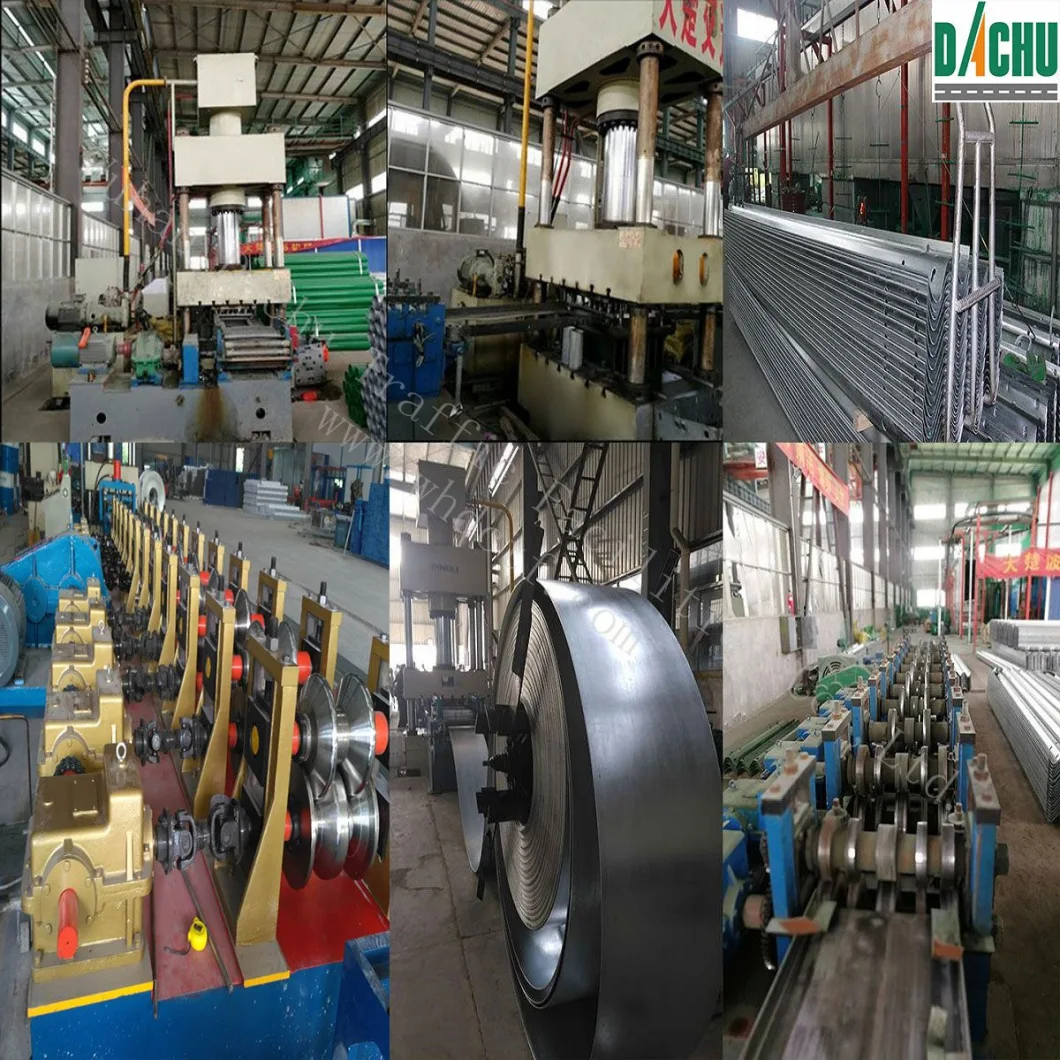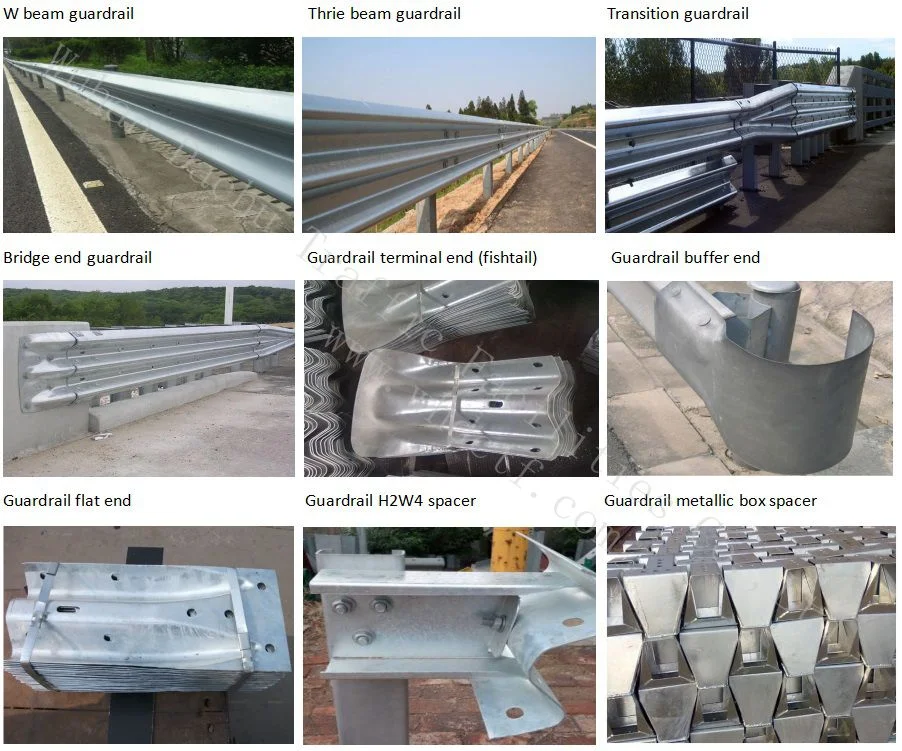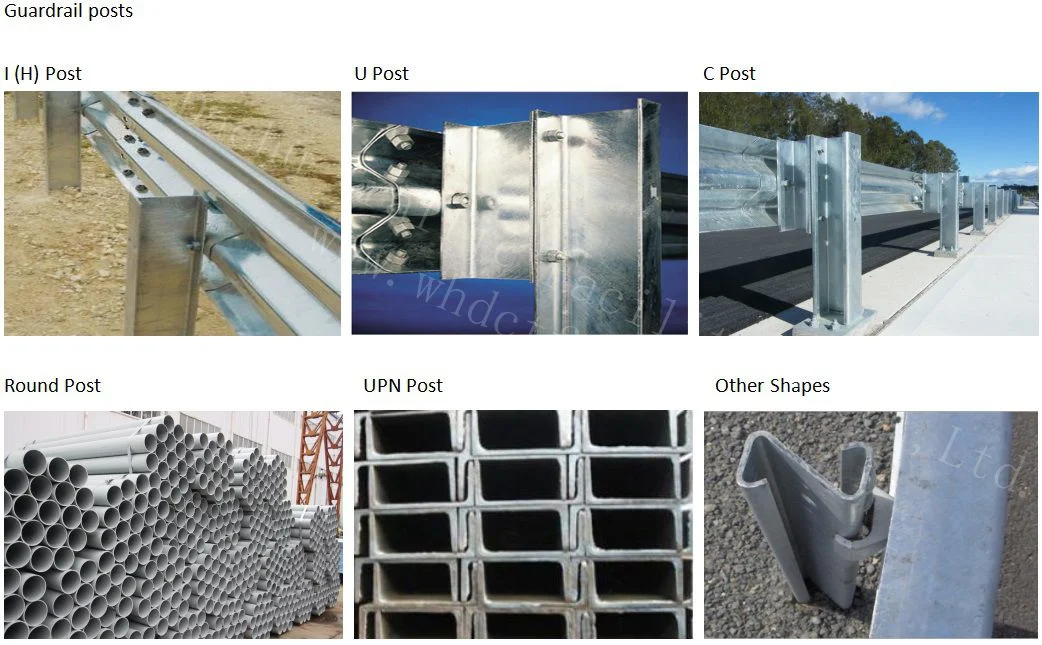 Contact us today for an estimate.