Far infrared ceramic ball in dealing with the process of water can release the low current, although the current very weak (0.06 mA), but with the human body consistent biological current, and on the human body and other organisms have I beneficial effects, can effective absorption of water lead (Pb++) chrome (Cr++) contour toxic heavy metals. In the hydrolysis of electrochemical with happen, condensed, adsorption and precipitation physics, chemical change, so far infrared mineralization ball and has the enzyme, from clean role. At the same time, this far infrared mineralization ball the release of far infrared ray and water molecules resonance, can make the water molecules group into small molecular group, increase water oxygen content.

As one kind of environmental protection and health care ball that is mainly made of the natural nonmetal mineral tourmaline, kaolin and high-grade clay by nanometer comminution technology, special formula and agglomeration techniques, and used with the ceramic ball for water purifiers, functional textile fiber, etc.
Application
For various types of water purifier, drinking water dispenser and water supply system and equipments, agriculture and industry, health care products etc.
Size: 3mm,5mm, 8mm,10mm, 15mm,20mm,25mm

Main Ingredients:Tourmaline: 25~30% Far infrared powder: 25~30%
Porcelain clay: 10~15%
High grade clay: 15~20%
Others: about 10%



Radiance of far infrared ray (the wavelength is 4~20μm) : ≥0.85
Amount of generating negative ions: 250~400p/sNaN3
PH of soaking water solution: 7.0~7.2
Insoluble, gradually releasing mineral substance
Use Instruction: Should wash with clean water for two times in advance, then can be directly used for drinking water treatment.
General Packing:25kg/box
Packing : Packing with plastic bags, 25kg/bag, or customized

Storage: Keep from raining, and avoid moisture. Stored in dry place.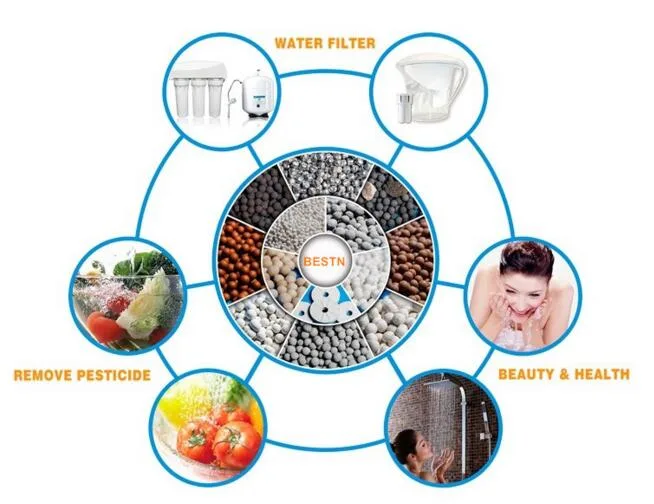 Pictures