We can supply different specification of quartz products.
1. Low hydroxyl content,
2. High temperature resistance,
3. High purity,
4. Good stability of dimension tolerance control,
5. Nice appearance.
· GOOD QUARTZ MATERIAL
· STRICT CONTROL OF THE PRODUCTION PROCESS
· GOOD QUALITY
· COMPETITIVE PRICES
· ON-TIME DELIVERIES
· GOOD AFTER-SALE SERVICE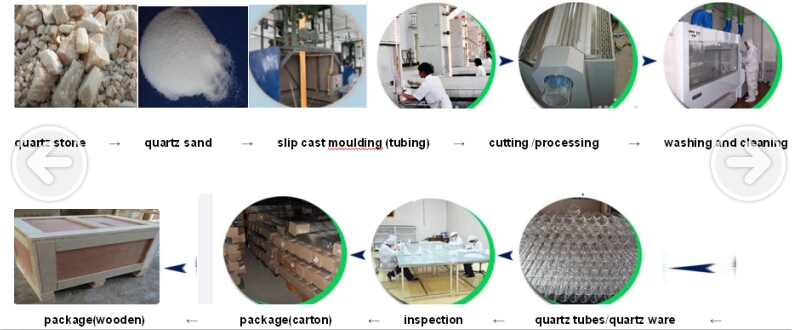 Physical Properties
Density 20oC g/cm3 2.2
Softening point(oC) 1683
Annealing point(oC) 1215
Defoamation Point (oC) 1120
-To order, please reply us your special enquiry.
| | | | | | | | | | | | |
| --- | --- | --- | --- | --- | --- | --- | --- | --- | --- | --- | --- |
| AL | Fe | K | Na | Li | Ca | Mg | Cu | Mn | Cr | B | Ti |
| 5-12 | 0.19-1.5 | 0.71-1.6 | 0.12-1.76 | 0.38-0.76 | 0.17-1.23 | 0.05-0.5 | 0.05 | 0.05 | <0.05 | <0.1 | <1.0 |
Spectral transmission at 1.0mm thickness
| | | | | | | | | |
| --- | --- | --- | --- | --- | --- | --- | --- | --- |
| m m | <220 | 255 | 280 | 315 | 350 | 38 | 590 | 780 |
| % | 89 | 91 | 93 | 93 | 93 | 93 | 93.2 | 93.4 |