Packaging Details:
All of our fiber optic cable package are with export wooden drum. Indoor FTTH cable's wooden dimension is 50x50x32cm, delivery length 3km/drum, Outdoor fiber optic cable's wooden dimension is 100cm*73cm*73cm, 0.54CBM, can be load about 44 drums for a 20GP.Also accept custom cable drum from customers. welcome to contact us!
GYTY53 Direct Burial Single Armored Double Sheath Fiber Optic Cable
GYTY53 Fiber Optic Cable Picture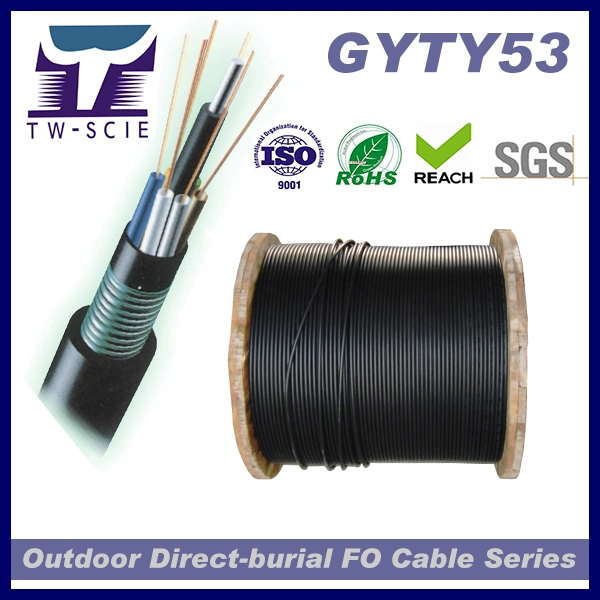 Fiber Optic Cable Applications
1.Adopted to Outdoor distribution
2.Suitable for direct buried method
3.Long distance and local area network communication
4.Used outdoor cabling
Fiber Optic Cable Specifications
1. 2-288 core fiber optic cable / GYTY53 Fiber Optic Cable / Fiber Optic Cable
2. PE jacket 2-288 core Fiber Optic Cable
3. GYTY53 Fiber Optic Cable
4. Burial Fiber Optic Cable
Fiber Optic Cable Feature Description
1. Good mechanical and temperature performance
2. High strength loose tube that is hydrolysis resistant
3. Special tube filling compound ensure a critical protection of fiber
4. Crush resistance and flexibility
5. The following measures are taken to ensure the cable watertight
6. Loose tube filling compound, 100% cable core filling
7.enhancing moisture-proof
8. Water-blocking material
9. Single Fiber Reinforced Plastic as the central strength memberFiber optic cable cable GYTY53 comply with Standard YD/T 901-2001 as well as IEC 60794-1

Fiber Optic Cable Wooden Drum :
The cables will be shipped on disable wooden or treated wooden drums or Steel reel on wooden drums.
Out packing: Protected by wooden batterns.
PS:The inner and outer ends of cable will be capped and made accessible for testing. A direction
of rotation arrow is marked on the drum together with the identification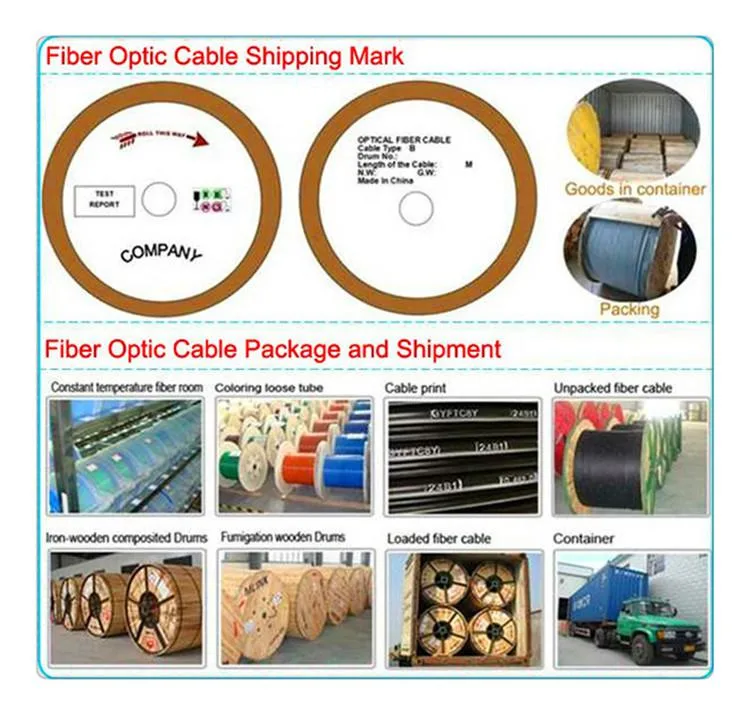 Fiber Optic Cable Packing and Shipment:
The following printing(white hot foil indentatioin)is applied at 1-meter intervals.
1.Supplier: As cuctomer required
2.Standard Code(Product Type, Fiber Type, Fiber Count): Aerial/Duct/Buried SM/MM xx F
3.Year of manufacture: xxx
4.Length marking in meters
5.Cable ID / Drum No.
The accuracy of marking is ±0.5%. Occasional loss of printing and remarking is in accordance with
Bellcore GR 20 and supersedes earlier marking. Cables can be supplied with a range of single mode
or multimode fibers and customized printing.
Fiber Optic Cable Testing:
Mechanical testing of Cables is done to determine the quality of the
Cable to withstand mechanical stresses and strains likely to be encountered in its lifetime. Each
mechanical characteristics can be tested on testing machine for the particular test.
Fiber Optic Cable advantage:
1.OEM fiber optic cable manufacturer
2. Fiber brand : YOFC, CORNING,FUJIKURA
3.Quality certification :ISO9001.ROSH.REACH
4.Cooperate with Vietnam telecom, Thai telecom, Singapore telecom, Dubai telecom and other big projects
5.We known as the fiber optic cable manufacturer for the excellent products quality, competitive prices , fast delivery and good service
Why choose us?
1.Introduction of foreign advanced production equipment and technology, have 14 year production experience, 80% employees have more than 10 years experience, excellent enterprise culture and management team.
2.FAST SHIPPING from factory
3.Item shipped in 3-15 working days after payment is received depends on the quantity of the order.
4.We accept T/T, L/C, Western Union, just choose what you like.
5.We accept OEM. The cable size and material are customized.Ur own logo and own design are welcome. We will produce according to ur requirment and description;
Dear Customers,
Many thanks for your time to view our fiber optic products, For MORE DETAILS & LATEST QUOTATION LIST, please feel free to contact us!
Technical data:
Fiber Num.
Outer diameter (mm)
Weight (kg/km)
Min.Bending radius(mm)
Tension (N)
Crash loading (N/100mm)
Static
Dynamic
Short term
Long term
Short term
Long term
2-24
12.6
185
12.5 times O.D.
25 times O.D.
3000
1000
3000
1000
26-36
12.9
195
38-60
13.4
200
62-72
13.9
230
74-96
15.5
275
98-120
17
320
122-144
18.4
365
146-216
18.9
385
218-240
22.1
495
242-288
24.3
580