Features
7-inch TFT LCD display with a resolution of 800×RGB×480
Frequency up to 1MHz, resolution: 0.5mHz
Signal level: 5mV-2Vrms, optional (2Vrms-10Vrms)
Built-in 0-100mA/0-10V bias power supply, optional 1A/2A bias
current source
Up to 75 times / sec test speed
Diode forward and reverse characteristic detection
Improved high turns ratio and weakly coupled transformer test
capability
Improved DCR testing capabilities
Single screen can accommodate all scan test results
Time stamping system: memory file setting, calibration deviation
and deduction time
Sort the selected scanning parameters
Self-test scanning fixture relays
Flexible deviation deduction method
Multiple handling ways for FAIL cases
Single parameter test cycle to test independent windings
Increased security: administrator and operator passwords
Built-in statistical analysis capabilities: Cpk, Cp, Ck, etc.
Bar-code reading function can be used to select a setting file or to
manage the type of test products
Optional PC-level instrument test setup file programming capability
Online upgrade mode: USBHOST or RS232
Support multiple instrument networking through LAN interface
Backward compatible with TH2818X/TH2819X parameter setting file
Storage: Internal: 100 groups of settings file to save
U disk: 500 groups of configuration files, CSV format test
data, GIF format images
Technical Parameter
Model
TH2829LX
TH2829AX
TH2829AX-24
TH2829AX-48
TH2829NX
TH2829CX
Test Pin(PIN)
20
20
24
48
72/96/120/144/168/192
20
Test Frequency
20Hz - 200kHz
20Hz - 1MHz
Display
800×RGB×480 7 inch TFT LCD display
LCR Function
option
Transformer test parameters
Turn Ratio, Turns, Phase, L, C, Lk, Q, ACR, DCR, Balance, Pin Short, Diode P/N
LCR Test Parameters
|Z|,Y|, C, L, X, B, R, G, D, Q, θ, DCR, Turn-Ratio, Phase, Lk
Basic Test Accuracy
LCRZ
0.05%
DCR,Turn Ratio
0.1%
Signal Source Output Impedance
10Ω,30Ω,50Ω,100Ω
Test Speed (ms/times)
13ms, 90 ms, 370 ms
AC Signal Level
5mVrms - 2Vrms(transformer test, can be customized to 10Vrms), 5mVrms - 10Vrms(LCR function);50μArms - 100mArms
DC Bias Voltage Source
------
0V - ± 10V;0mA - ± 100mA
DC Bias Current Source
0 - ±1A option(option TH2901) / 0 - ±2A option(option TH2902)
DC Constant Current Source
0mA - ±120mA for diode forward characteristic test
Diode Test
forward test voltage
0 - 9.9999 V
Reverse test current
0 - 99.999 mA
Comparator
10 bins, PASS/FAIL indication, file counting function
Storage
Internal: 100 sets of configuration file;U disk: 500 sets of configuration files, CSV format test data, GIF format images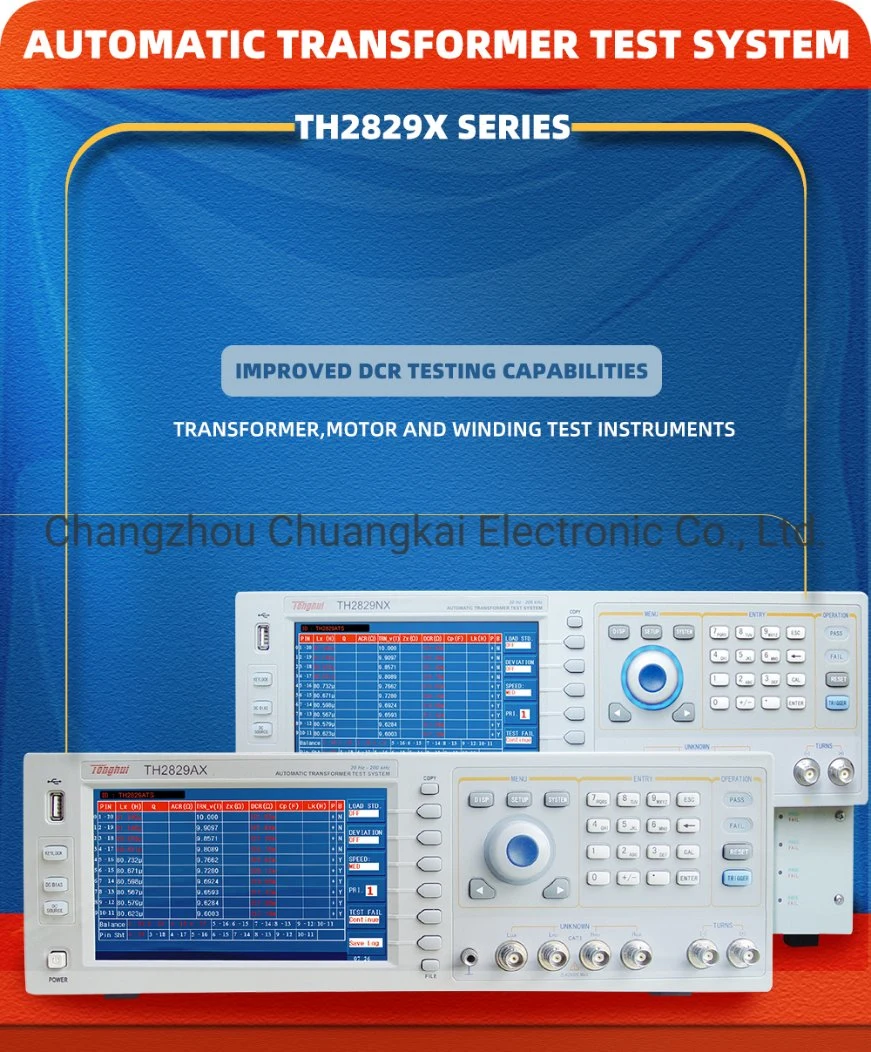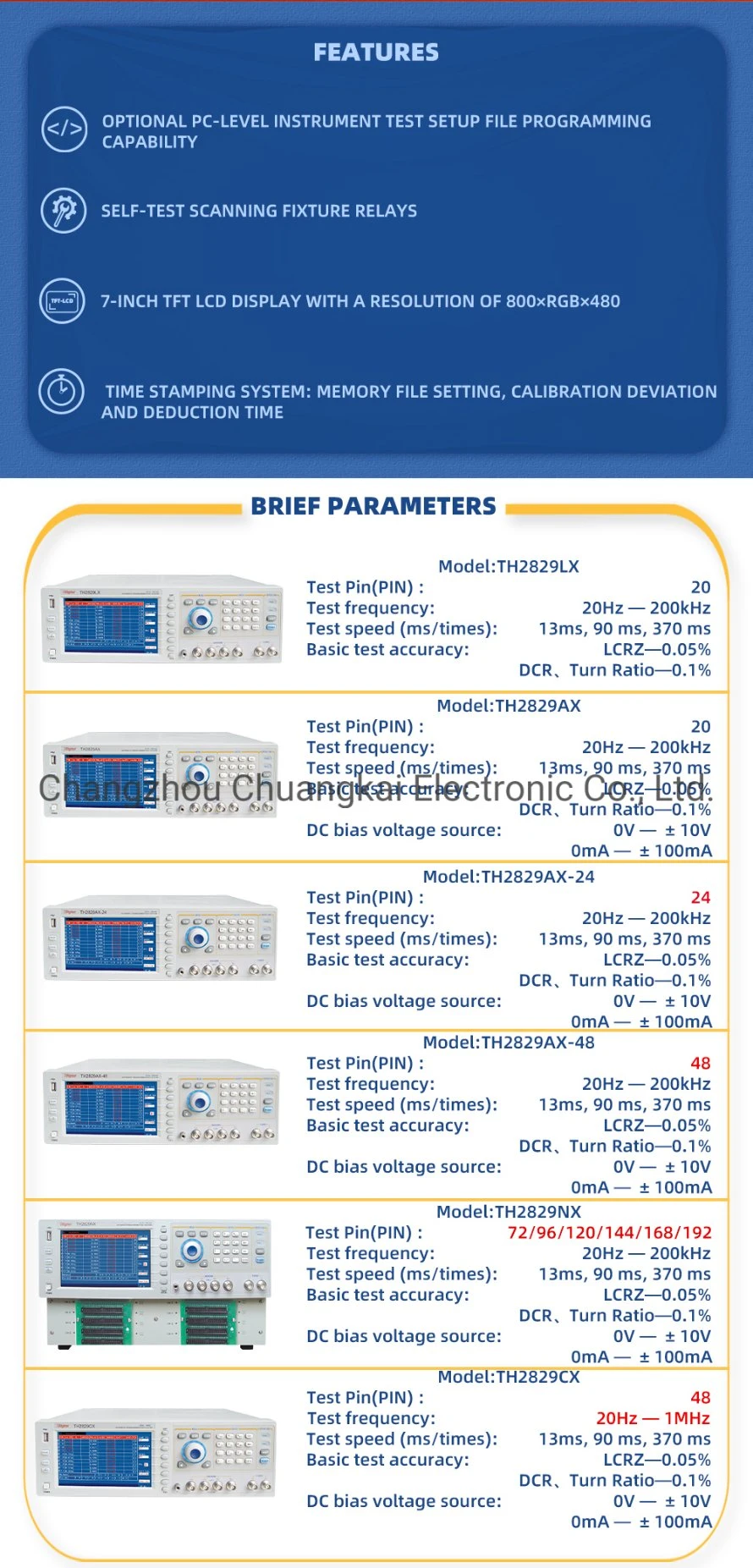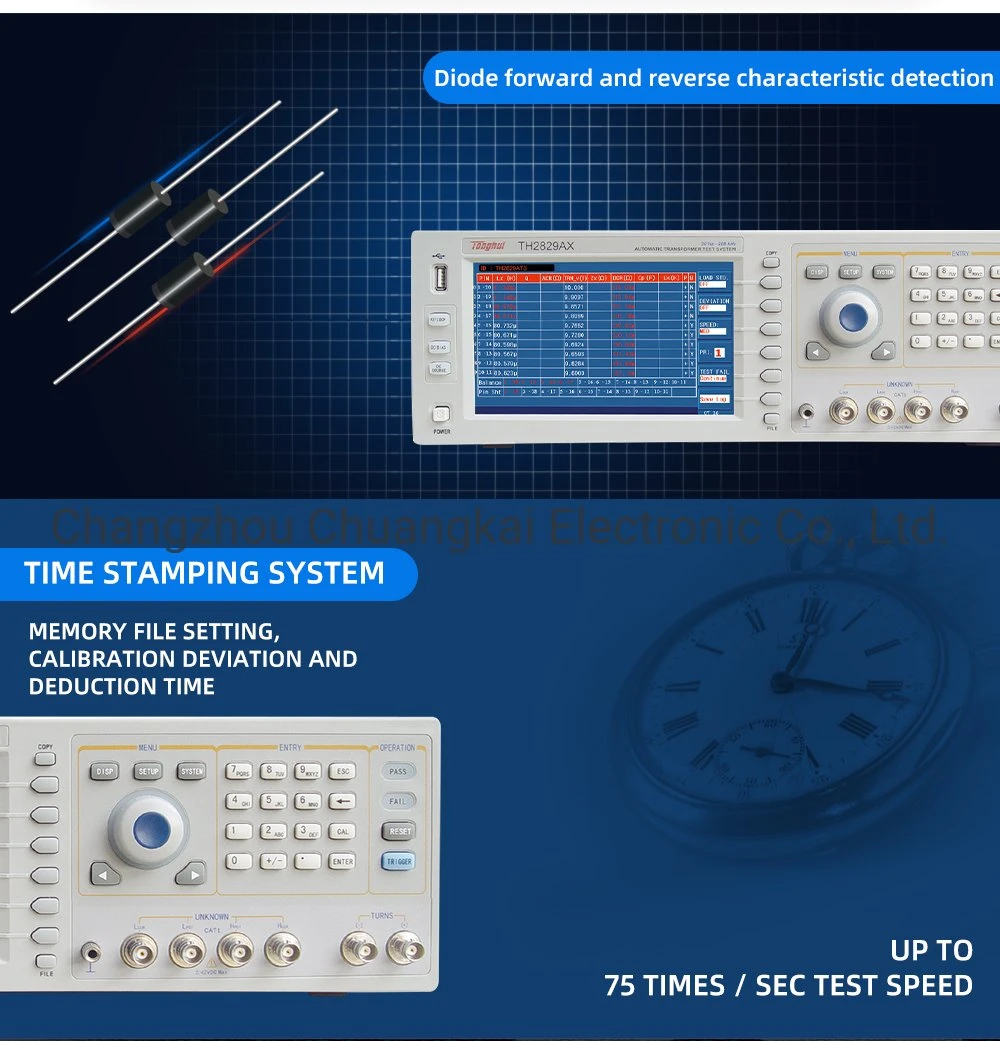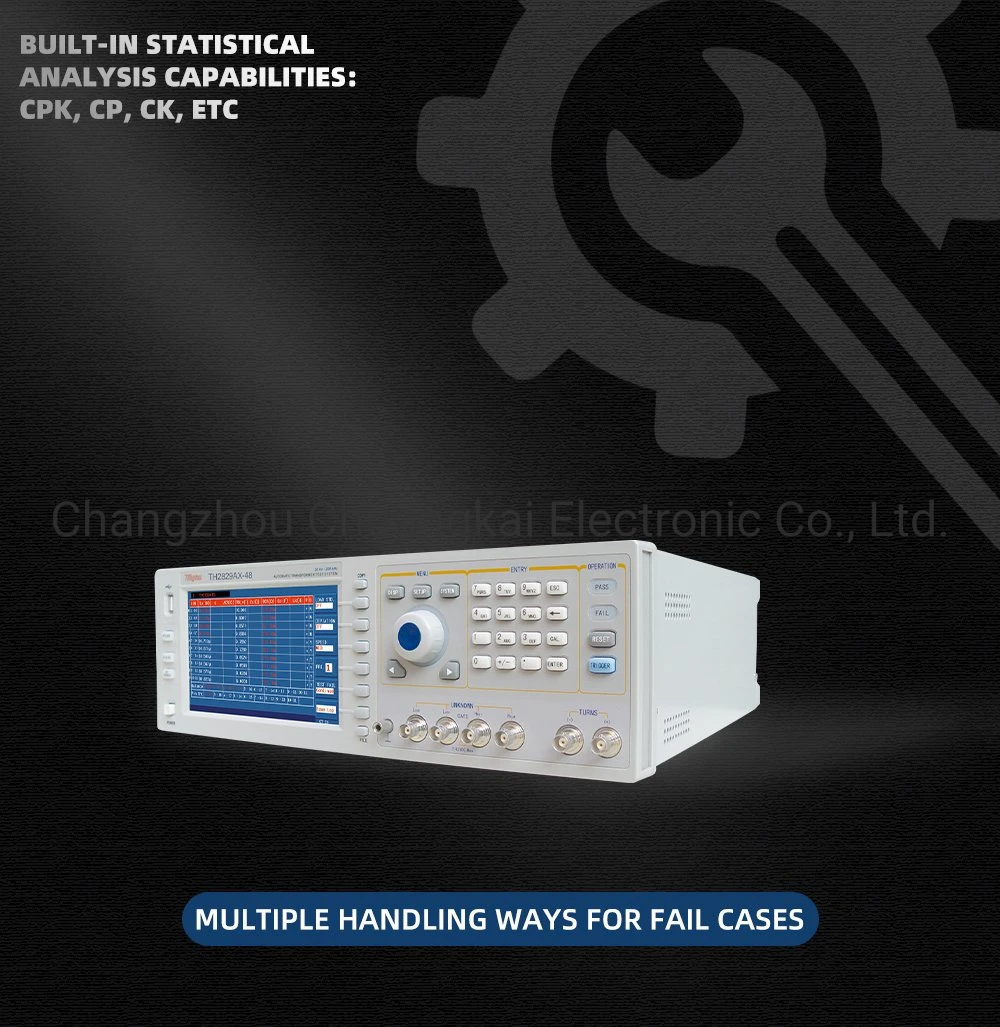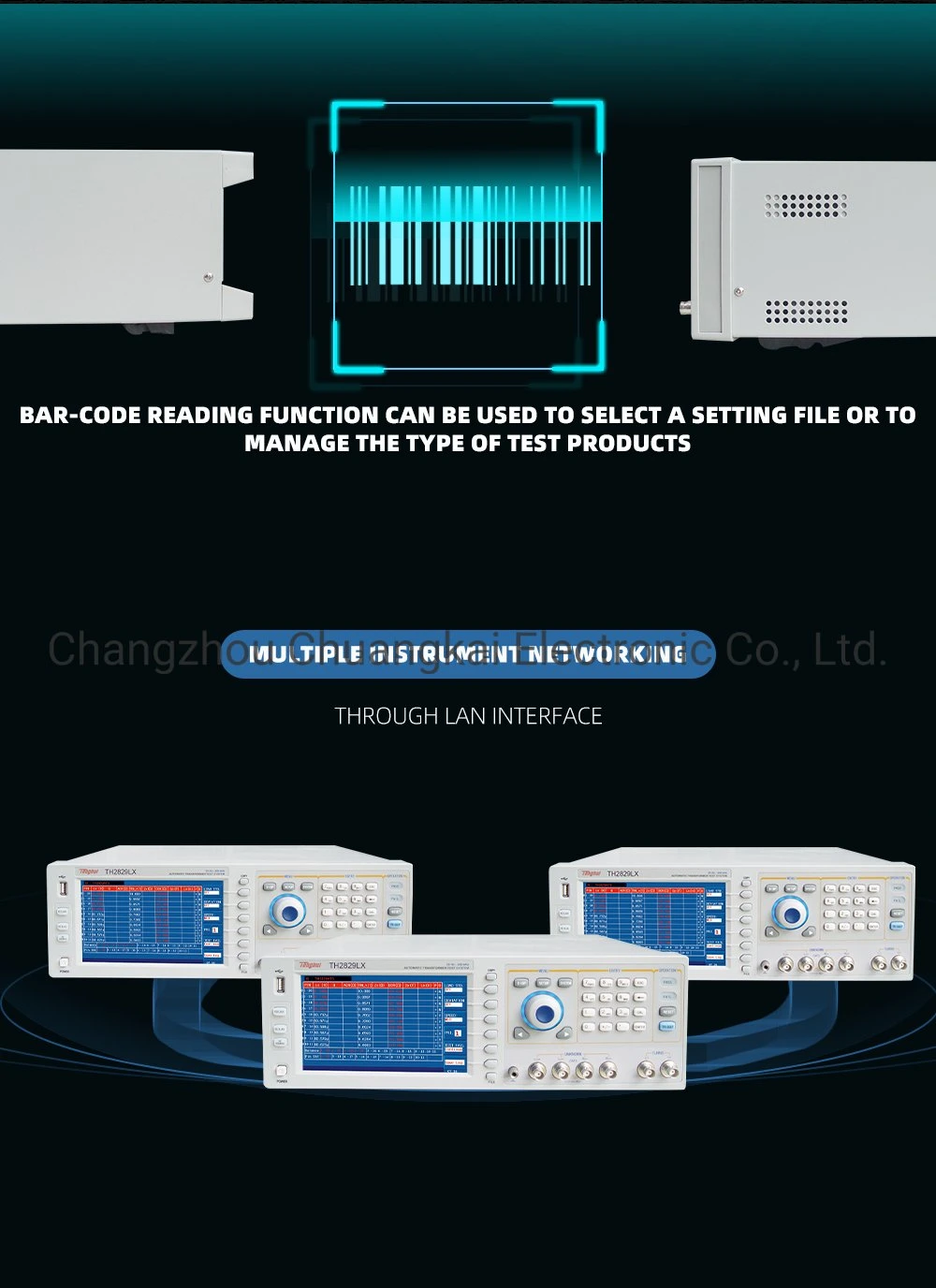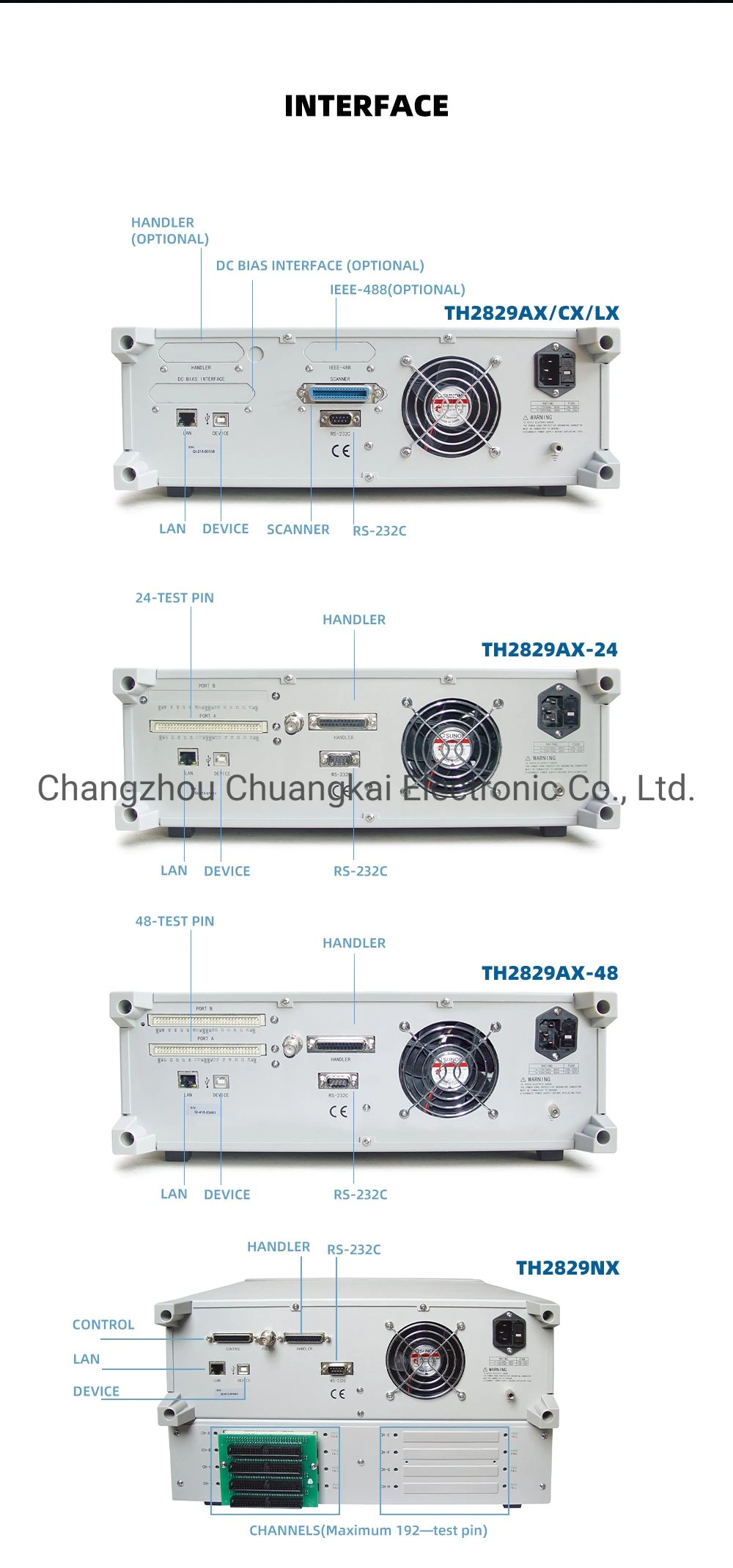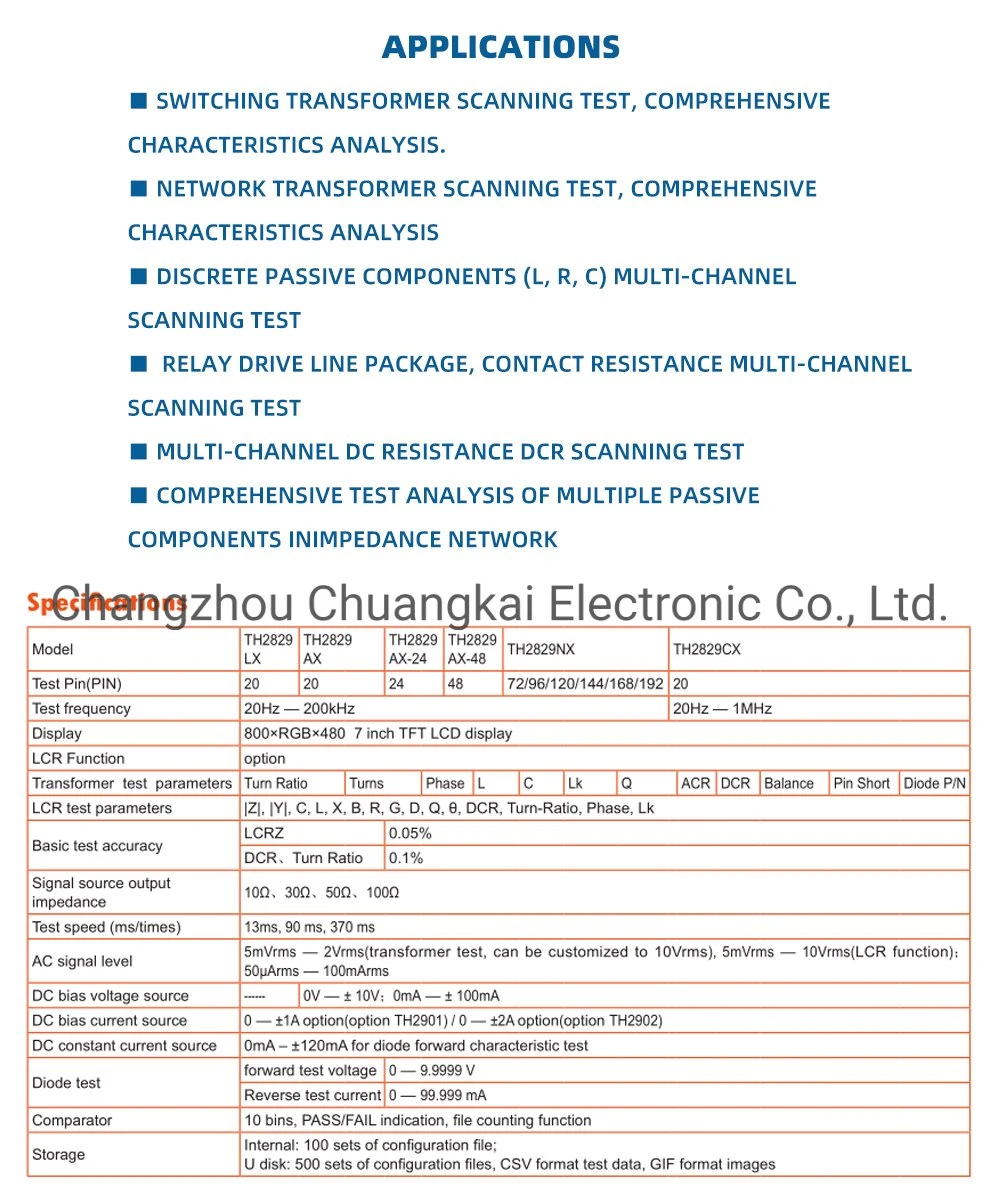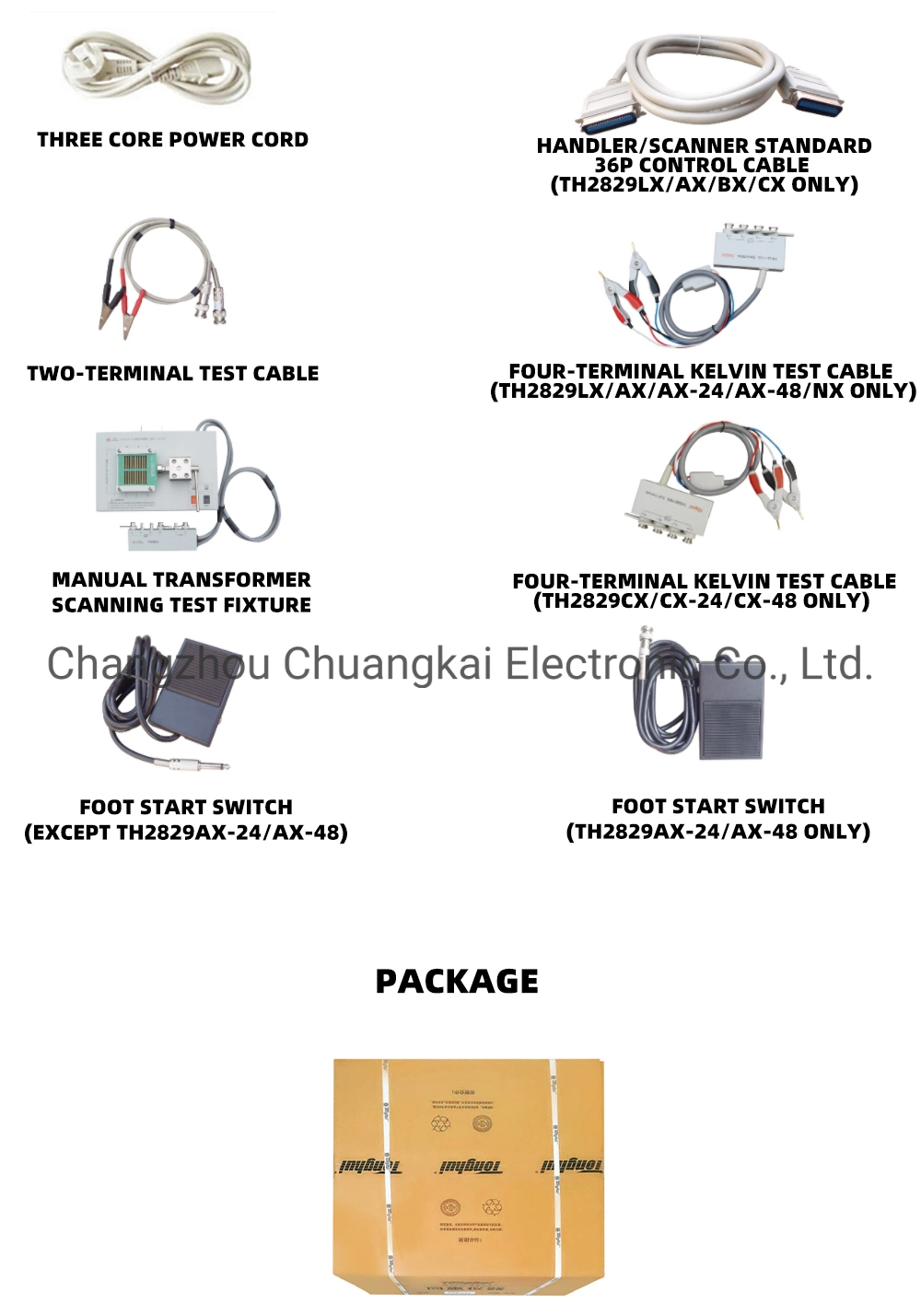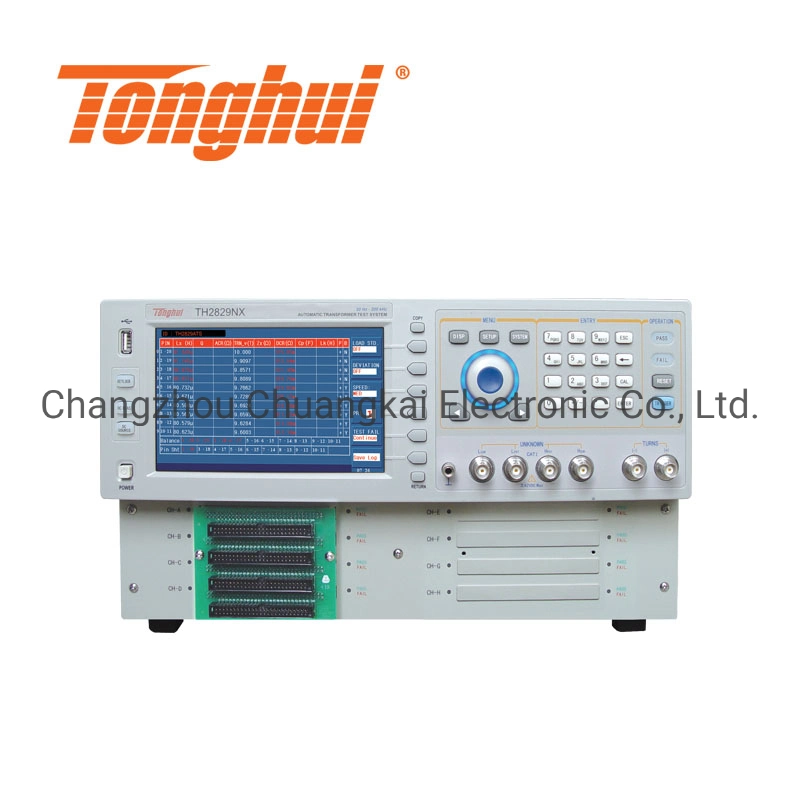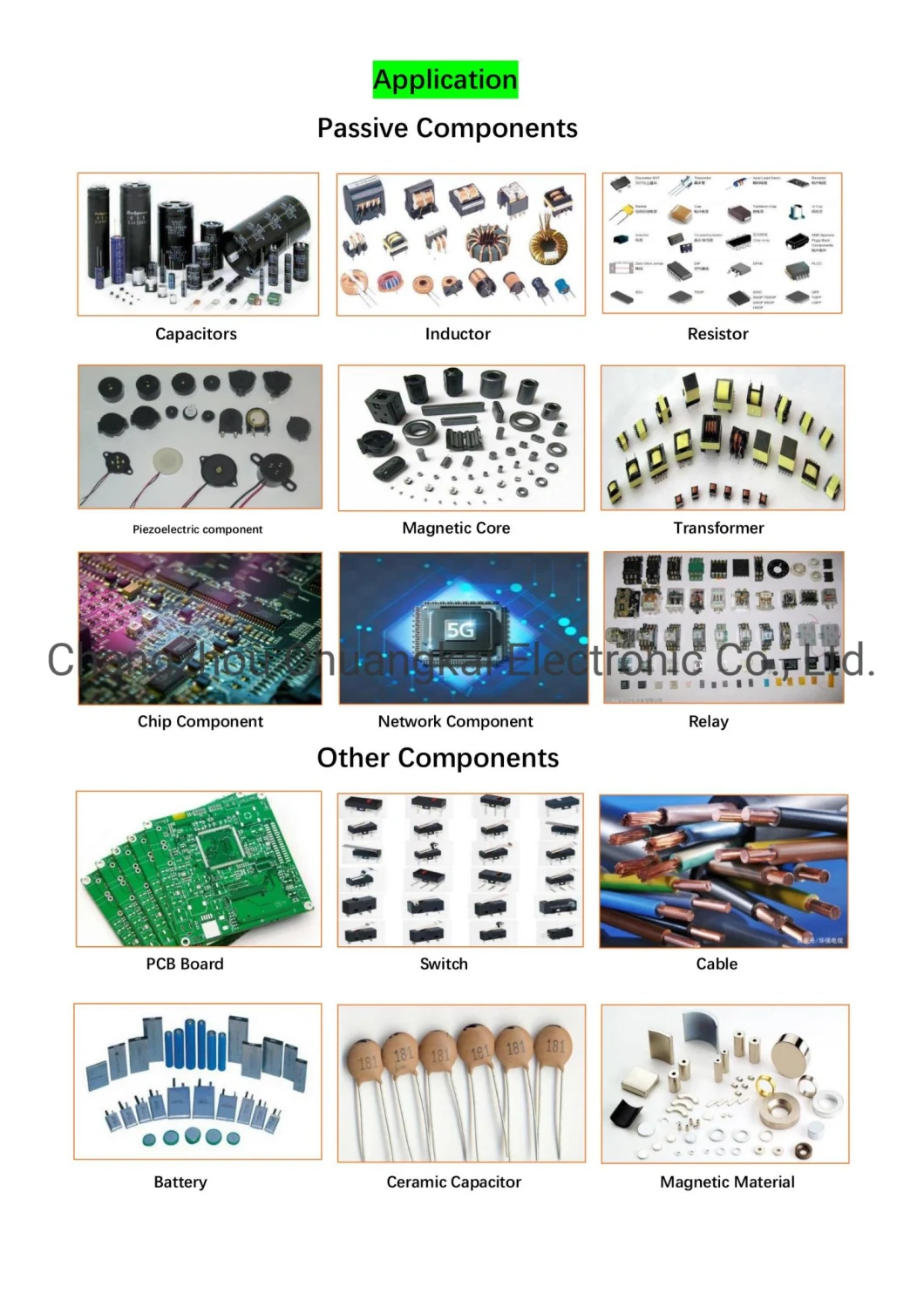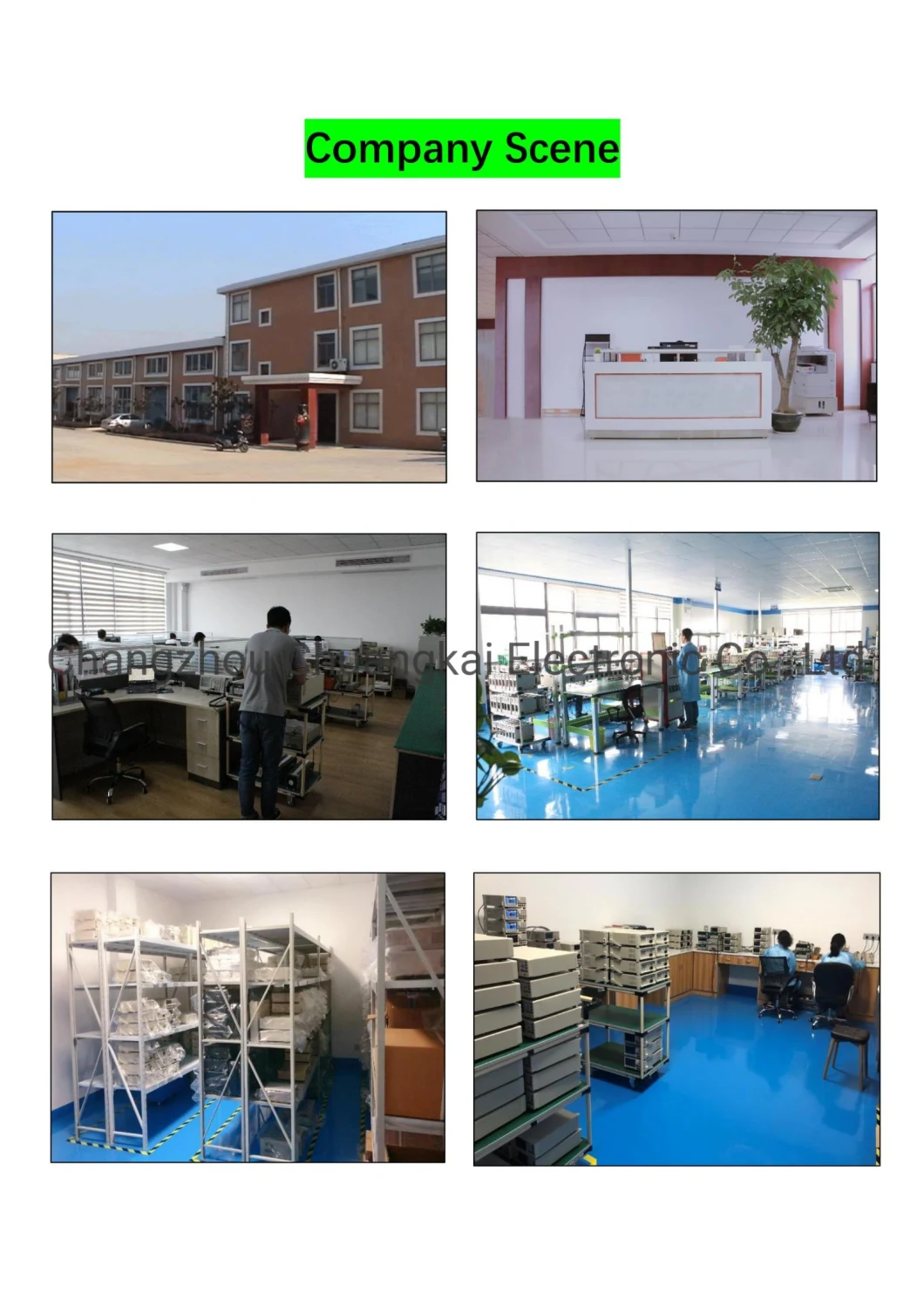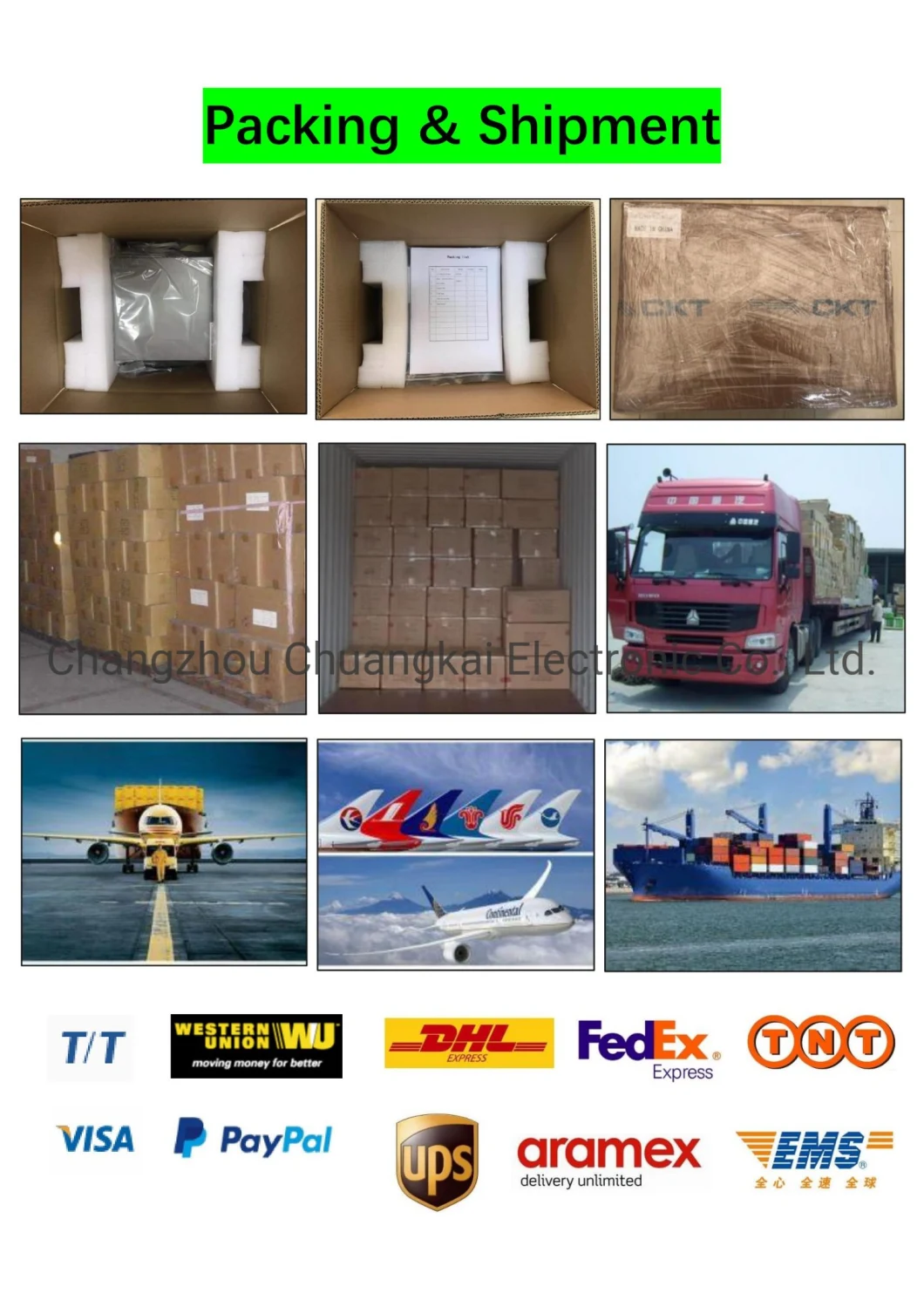 Chuangkai Electronic Co., Ltd is leading company specialized in producing, developing & selling various types of measuring instruments and testing equipment, such as temperature data logger, LCR meter, DC resistance tester (micro ohm meter), digital power meter, power supply, transformer tester, battery tester, programmable DC electronic load, charger, temperature controller, tachometer, high voltage signal-amplifier, power amplifier, etc.
FAQ:
Q. How is your company's product after-sales service system?
A. The product warranty period is 12 months, we can provide lifetime maintenance. We have professional pre-sales and after-sales teams that can respond to you within 24 hours to resolve technical issues. We provide one-to-one after-sales service.
Q: Can you customize it?
A: Yes, we accept customization according to customer's specific requirements.
Q. How long is your lead time? If I want to customize instruments, how long will it take?
A. When order quantity is 1-10 units, we have ready stock goods, we can ship out within 3-5 working days after receipt of deposit; products required new production of common materials, usually the lead time is about 10-15 days; products requiring new production of special and rare materials, usually the lead time is about 20-30 days.
Q. What payment method do you accept?
A. Our company accept payment method of T/T (bank transfer), Western Union, PayPal and so on.
Q. What package do you use for your products? What shipping method do you use?
A.1. Our company use standard exporting carton for packing. 2. We ship via express courier (door to door service), by air, and by sea according to customers' requirements.
For more questions, please feel free to send inquiries to us.