12 Core Corrugated Steel Armour Outdoor Fiber Optics Cable


Features(steel armour fiber optic cable):
1.Low dispersion and attenuation.
2.Proper design, precise control for fiber excess length render the cable excellent mechanical and environmental characteristics.
3.The armoring of steel wire makes cable have excellent tensile strength and nice crush resistance performance.
4.Steel-PE sheath makes cable have nice moisture resistance performance.
5.Small cable diameter, light cable weight, self supporting, easily to install.

General Specifications(steel armour fiber optic cable):
| | |
| --- | --- |
| Cable type | Application |
| -GYXTC8S | Aerial Self-supported installation cable |
Cable Structure(steel armour fiber optic cable):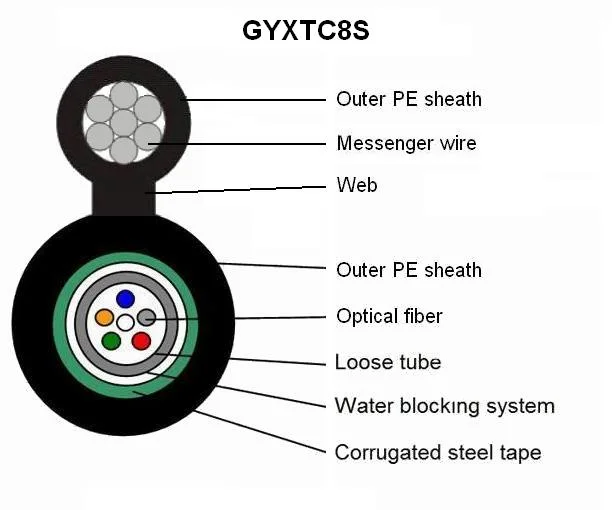 Cable Design(steel armour fiber optic cable):
Dimension and Properties
General properties
Unit
Nominal value
Fiber count (G.652D)


PC

Up to 12

Max. No of loose tube

PC

1

Fiber No. per tube

PC

12

Loose tube

Material

PBT

Cable Diameter

mm

5.0*7.4

Menssenger Wire

Material

Steel wire

Outer PE Sheath

Diameter

mm

2.0

Material

MDPE

Max. allowable pulling force

N

1000/3000

Armoured

Material

Corrugated steel tape

Crush resistance

N/100mm

1000/1500
Fiber Specifications:

G652D
In
cable




Category





Description




Specifications




Before cabling




After cabling

Optical
Specifications



Attenuation @1310 nm

≤0.34 dB/km (max.)

≤0.36 dB/km (max.)




Attenuation @1550 nm

≤0.20 dB/km (max.)

≤0.22 dB/km (max.)




Attenuation @1625 nm

≤0.23dB/km

≤ 0.25 dB/km




Zero Dispersion Wavelength




1300~1324 nm




Zero Dispersion Slope

≤ 0.090 ps/nm2·km

PMD Link value (M=20cables Q=0.01% )
maximum PMDQ



0.2 ps/√km




Cable Cutoff Wavelength (λcc)

≤1260 nm

Macro bending Loss
(1 turn; Ф32 mm) @1550 nm
(100 turns; Ф60 mm) @1625 nm
(100 turns; Ф50 mm) @1310 &@1625 nm


≤ 0.05 dB
≤ 0.05 dB
≤0.05 dB



Mode Field Diameter

@1310 nm




9.2±0.4μm

@1550 nm

10.4±0.5μm



Dimensional
Specifications



Cladding Diameter




125 ±0.7μm




Core/clad concentricity error

≤0.5μm




Cladding Non-Circularity

≤1.0%

Mechanical
Specifications



Proof stress




≥0.69Gpa


More Pictures(steel armour fiber optic cable):






Company Overview:



Related Products:


Tag: Armored fiber optic cable, GYXTC8S optical fiber cable, Self-support fiber cable, Aerial fiber optic cable, Figure 8 Unitube fiber optic cable GYXTC8S

For more details please feel free to contact me. Any of your inquiry will reply within 24hrs.
Alina SS
Mob:+86-13480750182
Tel:+86-755-23208570 Ext 8002 Fax:+86-755-23578277